Wellbeing With
-

AACHARYA
Each individual is a unique entity – designed in its unique way. So should be their lifestyle & well-being regime – uniquely designed as per the needs to experience life at its best!
At well-being Aacharya – our vision & goal is to help you discover and accept your unique self, rectify the physical, mental and emotional imbalances and put you in a sustainable lifestyle personalized for you. 
Air-water – fire – earth – space – we are made of these Panchatatva (5 elements). So understanding and striking the right balance is the secret of complete well-being. When there's a balance & synergy/coordination inside our
system and the Prana – the life force – is tuned to a particular frequency, it re-defines the possibility and vibrations of an individual.
Being physically fit or mentally strong or doing sporty things does not mean you're in perfect health. The ability of your mind to process, express & balance – each rasa (emotions) programmed in you, being guided by an
intuitive conscience inside an efficient physical body – in a symbiotic environment – is a state of well-being!
Unless you understand and accept your unique self – you would never realize your true emotions. It will be challenging to tap into your true self – you would always pretend to fit in a given way and keep facing the moments in life where you have to adjust or compromise with the right to be who you are.
The Conscience has always been neglected and underrated in terms of well-being & lifestyle. Yet, our Conscience keeps track of our karma – evaluate us and guide us in doing the rightful to maintain a balance inside us. When we put it on mute – and ignore it – we create an imbalance inside our system that reflects out in the form of anxiety, depression, guilt, and complexity affecting our physical and mental health.
Our body is the host to all – where millions of events are taking place! Would you be able to host a million people without a good team and strong system? That's exactly what our body does, and it needs to have a solid system to conduct and host everyone in a coordination.
Through my therapies, I initially focus on rectifying the individual imbalances of the core elements – the mind, the body and the Conscience. Then, with careful analysis and gentle tuning, I bring these three to an optimum frequency where they operate in a systematic association.
Aacharya holistic therapy
The Aacharya holistic Therapy is a combination of 3 individual verticals of my therapies – The Natya yoga, Food med & Conscience coaching. Combining these three, I strategize a wholesome well-being equation for each client to enhance their living experience and facilitate in achieving their objectives.
The beauty of this holistic program is, every time, for each client, it comes out differently with a new equation – aren't we all – unique, and so is this program uniquely personalized for you.
During the registration process, we get a complete knowledge of your medical history & lifestyle, your current health needs & expectations, and your future life goals. After crafting an accurate picture of your situation, we
combine the three therapies to personalize a unique plan best suited for you.
This compound program trains you with 'right eating ' through a combination of suitable food to nourish the mind & body and balance the hormone and lifestyle diseases, if any. Aligns your mind-body, thoughts and Prana – woven together in a state of alpha to re-tune your mind & energies. It makes you physically fit, emotionally strong & trains you with the right yogic & breathing exercise best suitable for you The therapy works on strengthening your mental health by helping you release anxiety, guilt, depression or any mental & emotional discomfort and re-program your subconscious mind and align it with your life objectives.
Therapy will benefit your entire being and lead you to be the healthiest, best possible version of yourself.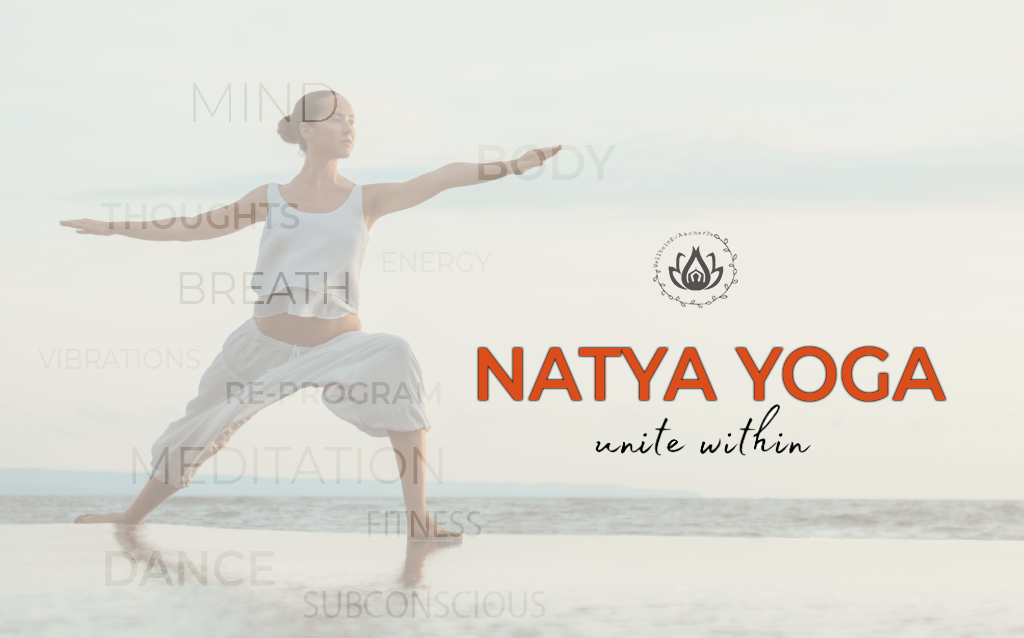 When the life forces, The – 'Indriya', 'Chitta', 'Buddhi', 'Manas' and 'Deha' and their motions are in unison, they lead to happiness & wellbeing which evokes your inner strength and impowers you with immense possibilities.
Natya yoga is a fusion of modern science and Vedic methodology leading to holistic wellbeing!
It is a therapeutic experience, tailormade to individual needs.
A curative blend of unique therapies including Live Music, Meditation, Movement, Breathing & Chanting to unite the forces of the five senses.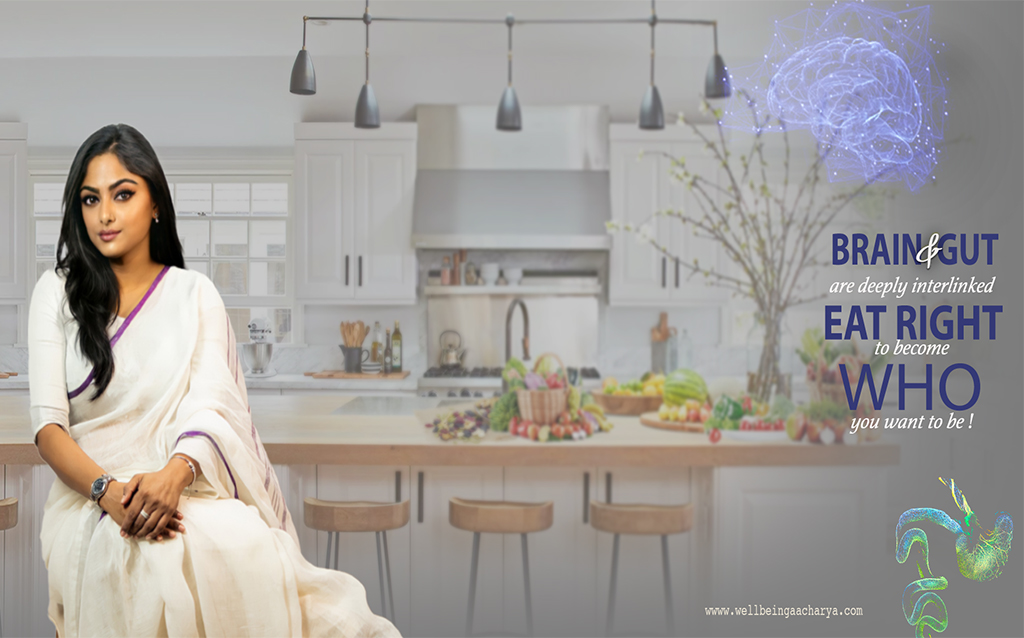 The brain and the stomach are connected by the vagus nerve that is the longest nerve connecting the gut to the brain. It is a bidirectional nerve meaning, the health of the gut affects the brain and vice versa.
When we lack the knowledge of self – our mind and body – and our unique formula of 'right eating', we indulge in compromised eating, and our body starts adjusting to it.
Unfortunately, this adjustment lowers the quality of 
the gut & brain relationship – leading to impairment in the entire system. This imbalance leads to frequent short term illness, and long term lifestyle diseases, and our immunity. Through 'Food Med', I help my clients understand their unique system – and find their formula of 'right eating' that helps them in healing, enhancing & maintaining the balance inside their system.
The food that we eat is more potent than medicine. With right eating, we help you preserve and protect your system from further damages, from the fear of lifestyle & hereditary disease that you may be carrying in your gean and you may be prone to. And reverse & heal your system to its best possibilities in case of physical, mental & emotional illness.
The food we eat defines – who we are – not just our body – but it defines our thoughts, our life & its quality too!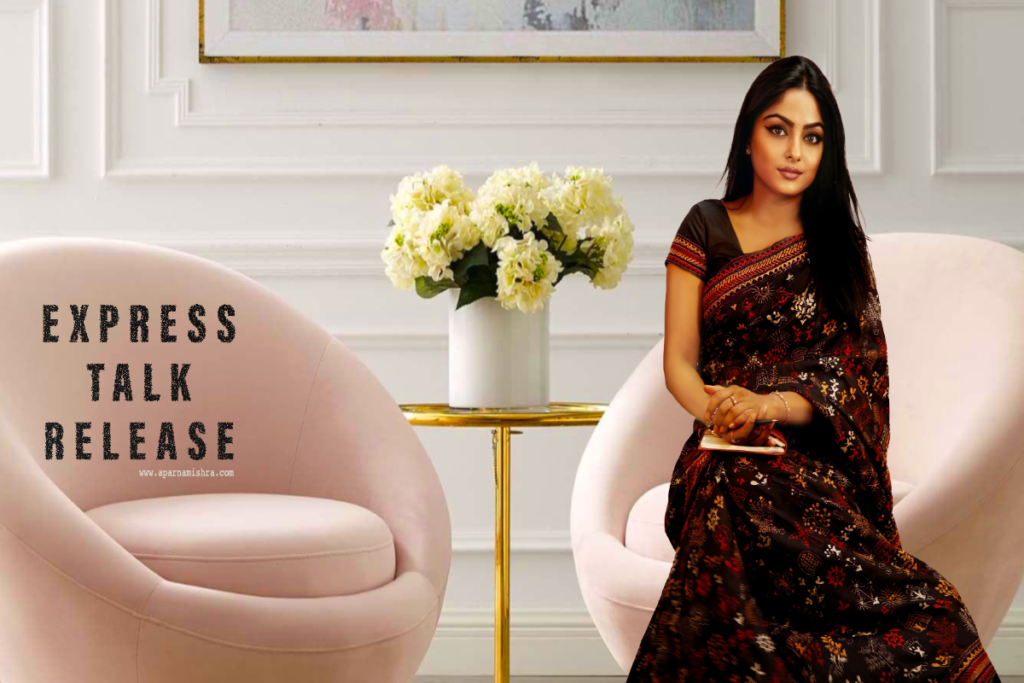 Our Conscience is the moral sense of right and wrong that act as a guide to our behaviour. Our Conscience is the matrix that holds all the operational data of our conscious & subconscious mind.
There are times – when our inner voice – our sixth sense urges us to do something, but we end up acting otherwise because it may not match our mental calculations & logic.
Ignoring the inside voice may help you handle things superficially in the present moment – but may deeply affect you inside, creating layers of – guilt, anger, shame, envy, anxiety, negativity & complexity. With time, these layers go deeper and heavier on your Conscience where its voice fails to reach you – and you keep adding to those layers – resulting in a mental & emotional imbalance. In addition, a disturbed mind & negative emotions inside us – adversely affects physical health & immunity.
More than religious preaching's & spiritual belief – it is scientific truth – how being kind, forgiving & thinking good for others affect our subconscious & reflects in our life! Our Conscience has so much power to control and impact our mental, emotional & physical well-being.
Conscience coaching therapy – focuses on treating your mental & emotional conditions from their roots. It begins with reverse treatment, where you release those layers of negativity, guilt, emotional setbacks, regrets etc. and feel mentally and emotionally light. Next, you learn to be one with your mind, body and emotions and start living again in the present moment. Then, side by side, we re-program your conscious & subconscious mind with our therapies to focus on your life & positive goals & relationships!
When we are in sync with our Conscience and listen to its guidance, it gives us the courage to act bravely and do the rightful moment. There's contentment, confidence & comfort inside you.
'Aham Brahmaasmi' – the creator is within me' – we can't escape or karma & our thoughts! To forgive – to forget and be kind is the key to a healthy, happy self!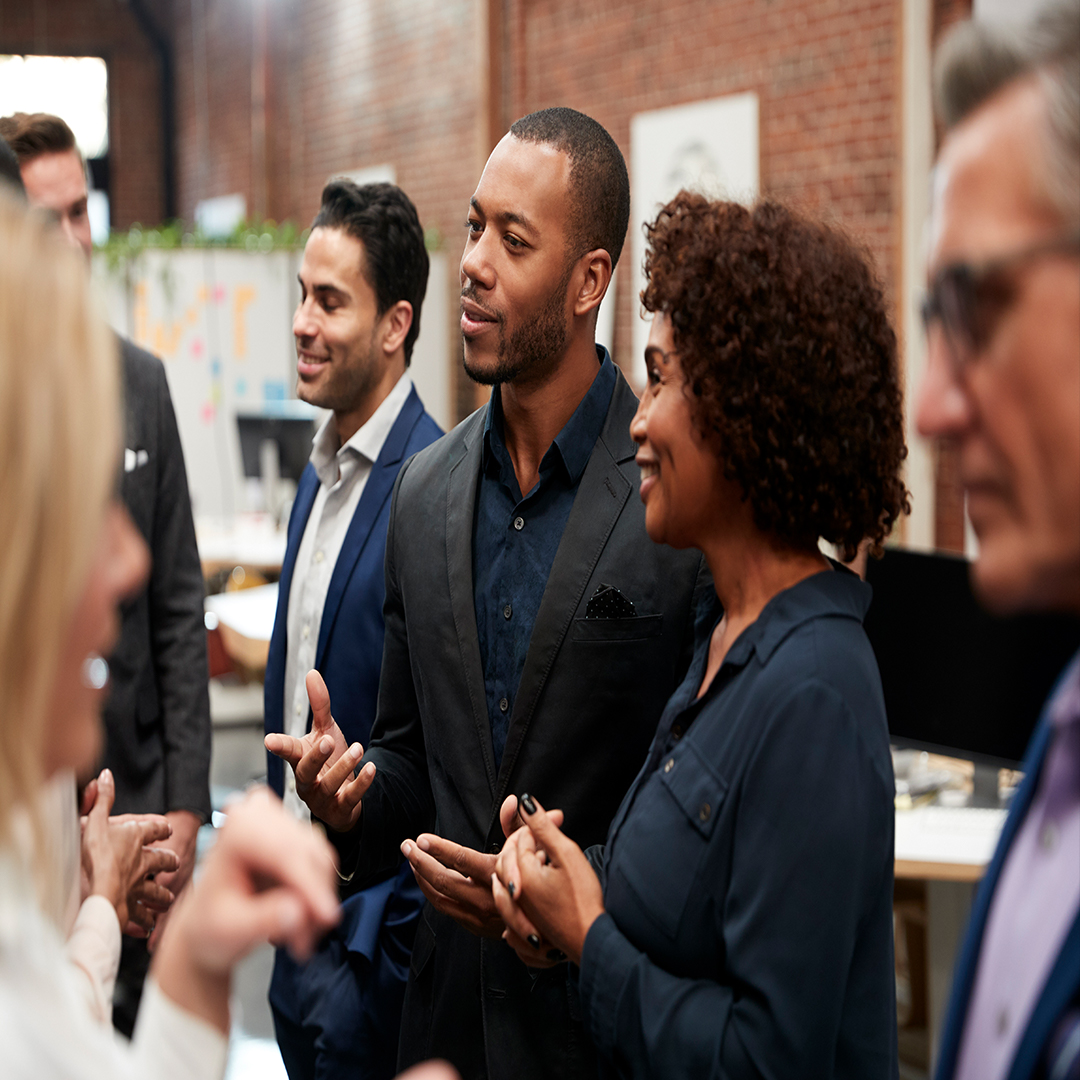 You can meaningfully contribute to your workplace and society only when you are one with yourself. Once you have ensured your physical, mental, emotional and spiritual well-being – you can focus on both personal and professional goals in your life.
Aacharya Workshops are designed for corporates, government bodies and institutions looking to improve employee well-being. 
These workshops are packed with wellness therapies and team bonding activities crafted to match the vision & objectives of the business head. We delve into the nature of work and your company & goals and objectives to understand better the kind of program suitable for your employees.
With careful consideration and in-depth research, we design a unique, integrated workshop full of activities that will activate the inner intelligence of your employees and lead them to live conscientious, enlightened lives.
Only when you develop an awareness of your soul can you create equilibrium in your professional and personal life.
Are you exhausted of accommodating to trends & shortcuts while finding the right solution for physical fitness, anxiety & depression, proper nutrition & immunity? Are you ready to discover your unique mantra of happiness & well-being to explore your possibilities & experience life at its best? Are you ready to dive deep into knowing and accepting
yourself to live a life that genuinely defines – who you are! Is there anything related to health & well-being that keeps
you worried about yourself and your loved ones?
To Request Your Free First Consultation Email


Niloufer@wellbeingaacharya.com
Book An Appointment

Only For Existing Clients